KatanaPIM is the single source of truth for product information that helps brands, wholesalers, and retailers easily collect and enrich their product data and efficiently distribute correct and consistent information to their different sales channels, marketplaces, resellers, partners, and catalogs. Implementing a PIM tool allows companies to streamline and automate internal processes and makes product information management and product launches quick & easy.
After twenty years of experience in the e-commerce industry, we have discovered the undeniable importance of centralizing product data for the success of an online business. This is why, in 2017, we created KatanaPIM. Since then, we have successfully committed to helping our users manage their product information the right way.
Benefits
Improved customers' experience
Improve your clients' trust, increase their loyalty, and get better reviews by giving your products consistent, complete, and rich information, with relevant images, attachments & channel-required attributes.
Faster time-to-market
Centralize, enrich and efficiently manage all your product data into KatanaPIM. Provide your products with channel-specific information and go to market faster than your competitors on all your sales channels
Enhanced team productivity
Boost your productivity and get your product information to the next level by organizing your internal workflow and letting your team seamlessly collaborate in creating compelling product descriptions
Reduced return rate
Find out instantly what kind of information your products are missing and let your team collaborate in optimizing all required data. Enrich your products with accurate descriptions and make sure to give your customers what they need.
Customer Case: Foodelicious
About Foodelicious
Foodelicious was born 15 years ago from a big passion for food and offers a variety of delicacies made from mixes of natural ingredients. The company brings to food lovers' tables the ingredients to create outstanding high-quality dishes and it's growing incredibly fast. By importing goods from southern Europe and abroad, Foodelicious distributes products directly to consumers and to other resellers around the Benelux.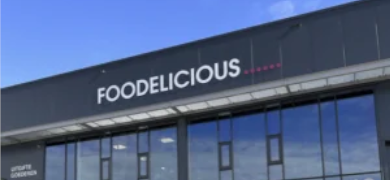 Case description
The company works with the Monta WMS system and two separate Exact Online environments for the B2B and B2C channels. Letting these systems work together wasn't easy for their team. Essential data for food such as expiration dates, allergens, and ingredients come from numerous suppliers. Importing this information into multiple systems and enriching and distributing it to different channels led to errors, duplicate and scattered content, and a heavy workload for the team members.
 

Action by KatanaPIM

Foodelicious needed a PIM tool that helped them to create a product from scratch to life. Secure, reliable, fast, and easy to understand for everyone in the company.

The basic product data is now automatically mapped and imported into KatanaPIM; after coming to life in this centralized solution, basic product data is shared with the ERP and WMS systems, while the full and enriched product information is now distributed to the webshops and resellers. 

With KatanaPIM, Foodelicious was able to quickly implement a solution for their problem and achieve a great time to value.
Results
By integrating KatanaPIM with the other systems, it is now easy for their team to manage all kinds of data. As a multistore solution, KatanaPIM helps the company simply and quickly share specific and separated information for all sales channels."I aimed to have a great organization and a centralized solution for product data to help the team work harmoniously together. I believe that simple product data is key. PIM is key. " Herman Specker, owner at Foodelicious.
Read more here.
Customer Case: OOSC's Strategic Approach
About
OOSC Clothing is a UK-based sportswear company known for its innovative designs and commitment to sustainability. Their range includes swimwear, skiwear, and other performance-driven sportswear, appealing to active individuals seeking functional and stylish attire.
Case description
OOSC faced challenges in efficiently managing their expanding product content across diverse channels. With a growing product catalog and the need to cater to multiple online marketplaces and their e-commerce platform, manual content management resulted in errors and inefficiencies.
Action Taken
To address these challenges, OOSC implemented KatanaPIM, a centralized platform for managing product data, descriptions, translations, images, and specifications. The integration of KatanaPIM with ChannelEngine allowed seamless synchronization of product data with online marketplaces, eliminating manual uploads.
Results Achieved
By leveraging KatanaPIM and ChannelEngine, OOSC achieved streamlined content management and efficient product data synchronization. As a result, they experienced enhanced operational efficiency, accurate representation of products across sales channels, and improved customer satisfaction. OOSC's strategic expansion plans, including partnering with major retail platforms like Macy's and targeting international markets, were supported by these solutions.

Questions? Schedule a free call with a PIM specialist
Find out how we can help you with any Product Information Management issue.
Schedule a free call