The PIM Market Is extremely diverse, how do you select the right one?
Since PIM is not a new topic but has been developing for almost two decades, there is a wide range of software providers with different focuses and degrees of maturity. As part of a software selection, the central question is "which of the numerous PIM solutions is most suitable for my individual requirements?".  
How do you get an overview of the software market at? Large analyst firms such as Gartner or Forrester look at the market regularly but from a global perspective. On the one hand, providers who currently play no role for us in the DACH market are rated, on the other hand, providers who have a long history and a very high relevance in the DACH market are not considered.
The market is currently dominated by software providers such as Akeneo, Contentserv, Riversand ( Syndigo), and Stibo. But the DACH market characterizes by a large number of other different solutions; We currently have around 50 providers. These each have different target groups, functional strengths, and unique technological features. Are you on the safe side by simply betting on one of the "Big Five"? Or is it worth looking at smaller providers on the market who could just as easily cover their own requirements, possibly even for smaller budgets?
Choosing The Right PIM Solution
Two things are relevant for a well-founded system decision:
A deeper insight into the provider market
An intensive examination of your requirements
When looking at the provider market, it is essential not to evaluate the software solutions alone but always the overall package that goes with them. In addition to the actual software, this also consists of a cosmos around implementation and operation issues. The software providers each have their DNA, which, in addition to the solution architecture and the functional characteristics of the software, is reflected in aspects such as target groups, industry solutions and personal interaction. The implementation is carried out by the software providers or by implementation partners specialising in this. For a smooth implementation and operating phase, concepts, implementation quality and partner networks for further development, support, and maintenance are essential for the manufacturer.
So how do you narrow the large number of providers to a few potentially suitable ones (shortlist)?
First, the following applies: Without testing against individual requirements, the individual systems per se are not better or worse than others but initially only different. Therefore, only a differentiated comparison of the various solutions about various criteria provides information. This is ideally done based on a clustered requirement profile. This can then be compared against the profiles of the providers.
So that such a comparison can be carried out, it is necessary to apply uniform criteria when analysing the solutions. In addition to the initially apparent functional aspects, this includes non-functional ones. About the functional aspects, the PIM market is now characterised by the fact that most solutions offer a high standard of coverage – the first providers are now even attesting to "feature completeness" themselves. It should be noted here that a superficial feature comparison does not reveal the existence of a feature about the usability, maturity level and performance of this feature.
PIM – A Holistic View
At the beginning of a selection process, potential providers and their solutions should initially play no or only a subordinate role. Instead, it makes sense first to develop a holistic PIM strategy. Essential things are considered. For example, which market a company operates in or which channels and touchpoints play an essential role in marketing and sales – today and in the future. In addition, where the data sources are located. Does data mainly arise in-house (manufacturer), or am I, as a dealer or association, confronted with a large number of suppliers from whom I have to collect and standardize data in a structured manner to be able to serve my channels?
Resilient target processes can only be developed when the data processes, which often run through different company departments and technical domains, have been thoroughly examined.
To get a holistic picture, one also considers the organizational structure and the embedding in the existing IT architecture.
System Replacement
The existing article data processes must be carefully analysed if the company does not yet have a PIM system. Owing to the lack of or limited central article data storage, many loops, parallel processes, and redundant data silos have usually arisen over the years. The pure 1: 1 mapping of this state would waste a lot of potential.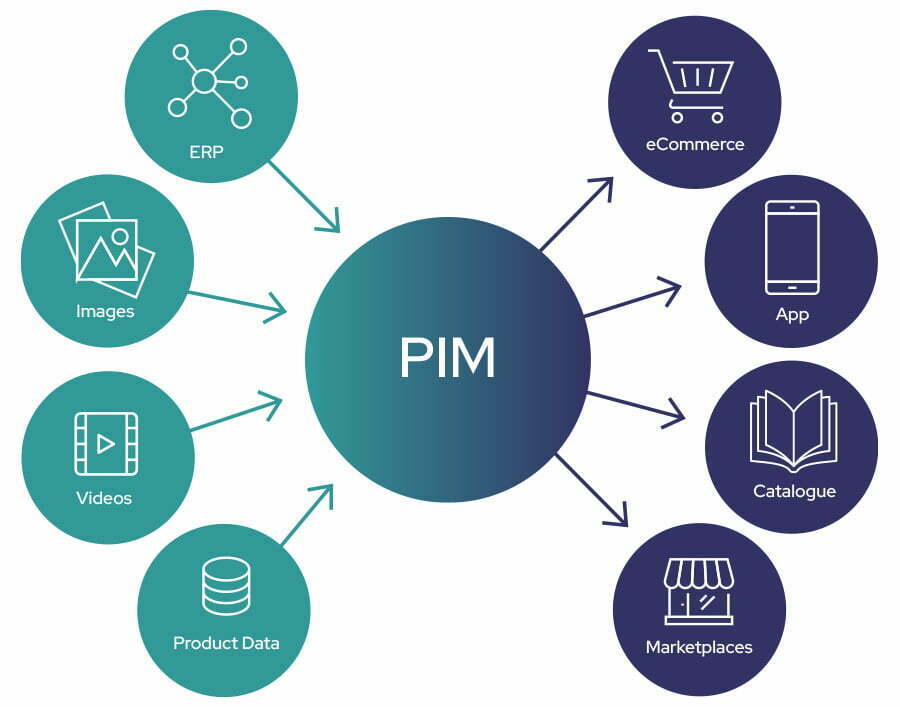 When considering a system change for Product Information Management, it's advisable to focus on processes rather than specific software products. Questioning the current state is crucial, as the company's situation has evolved since the system was introduced, potentially diluting the original ideal state due to new channels and a larger organization. PIM users and stakeholders often find detaching themselves from specific states challenging. Do you know exactly which functions are missing in the current PIM system? A new system should address these gaps. Additionally, conducting a procedural analysis and remodelling can produce positive outcomes.
PIM Selection
Once processes are revised, and requirements are structured and prioritized, selecting a software provider becomes easier. A detailed requirement specification represents the new ideal world and helps providers understand the company's situation. A requirement catalogue with software-independent criteria facilitates evaluating and comparing software providers' responses, reducing the risk of a wrong decision. When customers have clearly defined goals and processes, software providers can showcase their capabilities more effectively.
An accompaniment of the selection process by independent external experts has proven itself. Admittedly, this creates additional costs, but ultimately it "pays off".
External consulting supports selecting the right software solution (including an implementation partner, if applicable) with market knowledge and experience and thus reduces the risk of wrong decisions.
One of their main tasks is to constantly question (why is a specific process running like this, where are the trip hazards?). In addition, new impulses can be set from the experience of similar projects.
In addition, consultants help to reduce inefficient in-house rounds or to avoid ultimately bringing together a project team with heterogeneous ideas and thus ultimately reaching the goal faster.
The developed requirements already form the structural and technical basis for implementation, creation of test cases, introduction and acceptance of software.
Change processes go hand in hand with every PIM project. An external consultant can convey and accompany this change as a neutral moderator so that all process and organizational changes align with the strategy.
Product Information Management systems are Essential.
We help you select the best suitable PIM independently and match between you and PIM vendors. The process we are working on is the following: 
STEP ONE: THE EXPLORATION
To serve you better, please answer our 50-question Quickscan on your company requirements. These questions cover the subjects: 
Company workflow 
This allows insights into the patterns of your company's activity.
Data onboarding
 This allows insights into your preferred way of work and the maturity of your work surroundings. 
Data-enrichments
 Allows insights into the questions: what kind of products would you like to deliver? How do you structure your data? What is needed to transfer data to your partners correctly? 
Output
Touches on the subject of 'company surroundings' and preferred end-content. 
Technical requirements. 
Touches on the more detailed technical requirements of your preferred PIM. Besides these subjects, we ask you to add more information on your current organization and architectural setup.
STEP TWO: THE SHORTLIST
Secondly, after being matched with suitable vendors, PIMVENDORS will meet with you and discuss the possible shortlist after considering your specific needs. We ensure match quality using a Quikscan to let vendors indicate their products based on our questions. After receiving your company Quickscan, we can accurately match your needs with their software. 
STEP THREE (optional): THE MATCH & GUIDANCE 
Third, Pimvendors will offer to guide you through the selection process for an attractive fee. After a face-to-face consultation, we will devise a strategy to find your best PIM. We support partner selection, mapping your needs, setting up demo workshops, and coordinating meetings. Specific needs will be considered and matched against the chosen PIM vendors.
Questions? Schedule a free call with a PIM specialist
Find out how we can help you with any Product Information Management issue.
Schedule a free call